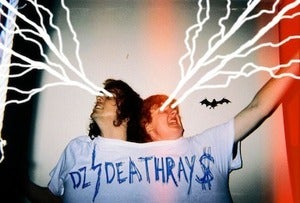 £

5.00 - On Sale
Welcome to club Kissability, a new cassette label from team Transgressive (Foals, Pulled Apart By Horses) and Jen Long (BBC Radio 1).
The first release comes from thrashing Australian grunge duo DZ Deathrays. Fresh from hype heavy showcases at SXSW and Great Escape, the NME favoured duo ...release their Ruined My Life EP on pink cassette on September 19th, limited to 250 copies. A CD version will be made available through Big Scary Monsters.
As well as celebrating the old tape format, Kissability also licks the digital age with EP artwork in the form of a QR code gifting cassette owners with a download of bonus track Gebbie Street and a full live set from DZ Deathrays.
The second release in November will be West Wales indie heartthrobs Cut Ribbons.
Club Kissability, making music a little more awesome.